Holders of awards



DX CLUSTER ON
line



Callsign     Freq.  Spot by          Grid/Comment              UTC Date   


G0DYW       7074.0 YB5HPT     IO91QV OI09 -20db, CQ         2152 25 SepEA3EDU      5358.4 OH0RY      JN01WK JP90 FT8 Sent: -12 R   2127 25 SepG0DYW       7074.0 JA5MHD     IO91QV PM63JU Tnx for -17db,  2119 25 SepVK4CZ      28074.0 EA7L       FT8 via LP Tnx QG62LP08 IM86  2043 25 SepVK4CZ      28074.0 CT1FNG     FT8 via LP Tnx QG62LP08 IM58  2043 25 SepI1BEP       1840.0 OH0RY      JN34VR TR JP90SF              2042 25 SepVK4CZ      28074.0 CT1KNL     FT8 via LP Tnx QG62LP08 IN50  2039 25 SepWC5S       18132.0 WC5S       EM32VJ EL09TW                 2038 25 SepVK4CZ      28074.0 CT1EDG     FT8 via LP Tnx QG62LP08 IM58  2037 25 SepVK4CZ      28074.0 OA4BAQ     FT8 Tnx QG62LP08 FH17         2036 25 SepAK9TX      14305.0 KA4JAM     EN82GI FM14 Great Op! and Gre 2011 25 SepVK4CZ      28074.0 EA8CIA     FT8 via LP Tnx QG62LP08 IL18  2008 25 SepEA7FDR     18106.0 VK9LAA     FT8 -07 F/H IM76HG QF98ML     1957 25 SepI1BEP       3568.0 OH0RY      JN34VR TR JP90SF              1953 25 SepF4PZN      18132.0 OA3DIA     s3 low QSB to JN18FR ...      1949 25 SepDL4MFF     18100.0 K4YGD      JN57IW EM91LX tnx ft8         1947 25 SepDL4MFF     18100.0 ZD7CTO     JN57IW IH74DB tnx ft8         1944 25 Sep



| | | | | | | |
| --- | --- | --- | --- | --- | --- | --- |
| Callsign | Frequency | Spot by | Grid Square | Comment | UTC | Date |
Add DX CLUSTER ON
line
Info / Rules

Dear Guest!
This site has been developed to accommodate Amateur Radio operators from around the world
By entering your contacts through the electronic interface, you can apply to receive MY WORLD AWARD! series of diplomas. This award program accepts
confirmed
contact made on HF bands by hams, beginning
January 1, 1980
. The program aims at popularizing communications from QTH-locators around the world
QTH-locator is comprised of a sector – AA, large square – 00 and small square – aa. This program counts QSOs with correspondents located in separate sectors, and achieved rating is established based on sectors and large squares. The award covers 9 bands – 10, 12, 15, 17, 20, 30, 40, 80 and 160 meters
In order to promote 'collecting' large squares, this site features ON-LINE rating of the program participants. One can view world-wide Top 10 achievements. If you haven't yet reached that plateau, enter your call and see where you are at the moment
If we interested you in our award program – welcome!
Please register by clicking
Register new user
Pay attention when entering your information. Your name and correct mailing address are essential for prompt delivery of your award. Once your entry is validated by the award manager (within 24 hours), you will gain full access to your electronic log database. Your log keeps track of confirmed unique sectors and large squares. QSO data may be entered manually (
Add QSO
) or we can import your ADI-format file (from your log, like DX4WIN, for example). Import by clicking
Add QSO from ADI-file
. ADI file should not exceed 5 mB, which is approximately 25,000 contacts. Be patient, processing of your log may take few minutes.
Whenever new log is imported, program will take in only new data – unique sectors and squares. Sectors are displayed with full QSO data, but large squares – only as a sum of all credited squares. In the
Summary info
section, on the bottom, one's achievements are presented. See what large squares you have been credited with. You can also remove wrong information or add new, using
Add /Del
buttons.
Summary info
also contains all available award levels. As you move along, OK! Tags would appear next to the awards that you have completed. By clicking on the
Get it!
link, you receive formatted text file. Print it, sign it, have it verified by two hams and mail it to the award manager to claim your award. Each award category features continent maps, showing your missing sectors (the ones you need to work). Ideally, when you worked everything, a full conquered continent outline will be visible!
Best regards, Sergey, RM8M
Award Program Manager
More information...
Translate by EDWARD KRITSKY, NT2X
--
Most wanted Sectors
GRID Calculator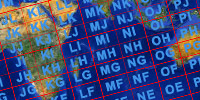 Top 10 Challenge:
Callsign
Confirmed QSO's
1
RV9CX
1666
2
RA3DX
1607
3
RJ3AA
1584
4
RZ3EC
1583
5
K0DEQ
1510
6
RW4NN
1463
7
RN1ON
1425
8
RW4NH
1420
9
K2SHZ
1408
10
UA9CGL
1403
Top 10 (Sector's):
Callsign
Sector's
1
N8DE
264
2
RZ3EC
255
3
UA9CGL
250
4
K2SHZ
247
5
RW4NH
247
6
RA3DX
246
7
RV9CX
245
8
RN1ON
243
9
RA6YJ
242
10
RW4NN
240
Top 10 (Square's):
Callsign
Square's
1
RA3DX
3403
2
K0DEQ
3228
3
HC2AO
3187
4
RJ3AA
3123
5
N8DE
3063
6
UY9IF
2845
7
UX2MF
2806
8
RZ3EC
2763
9
UA9LAO
2726
10
K2SHZ
2661